I N O T E C H B I O S C I E N C E
INOTECH ARMA- ROTATOR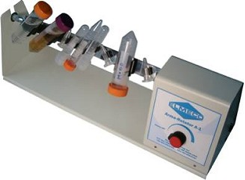 Arma-Rotator (Model A-1/BO)
Inotech Catalog # IE-300
New- Battery Operated now available! Magnetic clips make this product more user friendly and efficient than our competitors screw-on clips.
Features
Magnetic clips can be placed in almost any position, and angle on the rotating bar. This is unique feature can agitate in a more fluid and effective motion.
No screwdrivers needed to remove clips
0 - 120 RPM
Comes with an assortment of 9 clips

3ea. IE-301 for 1.5ml tubes
3ea. IE-315 for 15ml tubes
3ea. IE-350 for 50ml tubes
Specifications
Size: 20" x 6" x 6"
Electrical: Battery or 12V DC operation
Will operate 20 hours before needing recharge
Weight: 7lbs.