I N O T E C H B I O S C I E N C E
INOTECH UTILITY WIPES HOLDER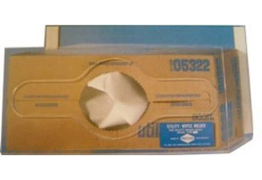 Utility Wipes Holder (Tape Mount)
Model 10-001
Inotech Catalog # IE-600
The most valuable thing in any laboratory is counter space, so why waste it with an array of tissue boxes? Our Utility Wipe Holder can be placed on any vertical or horizontal hard surface and it's just and arms length away. Simply peel off the protective tape and press the holder onto the most convenient place in your work area, where it can be loaded and reloaded as needed.
Features
Fast and easy installation
Designed to accommodate most brand sizes
Specifications
Made from one piece 1/8" thick buffed plexiglass
Overall dimensions: 13" x 6" x 6"
Shipping weight: 2lbs/1kg.