I N O T E C H B I O S C I E N C E
INOTECH STERIGUARD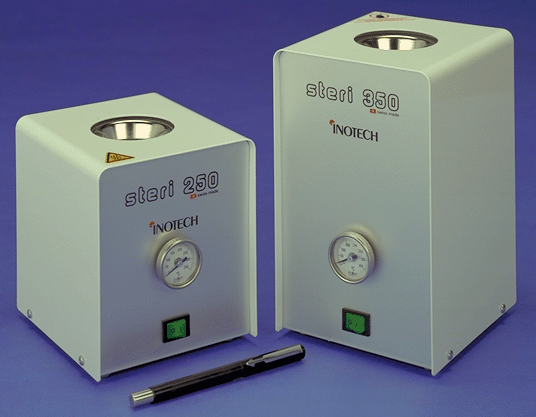 Dry Glass Bead Sterilizer - Don't Just Disinfect..........Sterilize
Sterilize small metal and glass implements in seconds. Common disinfectants (ethanol, iodine) reduce the amount of microorganisms present, but Steriguard destroys them all!
Efficient
250C operating temperature destroys all microorganisms, including spores, in less than 10 seconds.
Perform multiple procedures with one set of instruments.
Eliminate autoclaving of multiple instrument packs.
Safe
No gases or fumes.
No open flames.
No harsh concentrated liquids.
Convenient
Small footprint.
Low electricity demand allows for all day operation.
Operation
The Steriguard heating well is filled with glass beads that are maintained at 250 degrees Celsius.
Plunge the working end of any solid metal or glass implement into the beads, and the surface is dry heat sterilized in about 10 seconds.
Performance Validation
Passed the Validation of Dry (glass bead) Sterilizer Spore Suspension Test: U.S. Pharmacopeia XXI, Part 1211.
Pasteur Institute approved

Swiss Electric Association approval.
Ref. Contemporary Topics (AALAS), March 1995, Vol. 34 #2, pp 057-059
Ordering
IS-250 - Steri-250 Glass Bead Sterilizer
IS-350 - Steri-350 Glass Bead Sterilizer
IS-500 - Glass Bead Refill 2mm diameter (one 11oz. bags, fills 250 twice, 350 once)
IS-500-MS - Micro Glass Bead Refill 1mm diameter
Specifications
Steri-250

Outside dimensions - (HxWxD) 5.5"x4.9"x5.5"
Sterilizing well dimensions - Diameter = 1.75"; Depth = 3.0"
100 watts
Well and lid composition - rust resistant chrome-nickel steel
Outer case composition - rust resistant aluminum
Weight ~2.5lbs.

Steri-350

Outside dimensions - (HxWxD) 8.0"x4.9"x5.5"
Sterilizing well dimensions - Diameter = 1.75"; Depth = 5.0"
175 watts
Well and lid composition - rust resistant chrome-nickel steel
Outer case composition - rust resistant aluminum
Weight ~3.5lbs