I N O T E C H B I O S C I E N C E
INOTECH ROCKER PLATFORM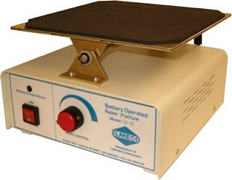 Battery Operated Rocker Platform (Model LK-75)
Inotech Catalog # IE-200
75 Hours with one charge! Ideal for field use or where conventional power is not available.
Features
The platform is 8" x 8" and accepts interchangeable 12" x 12" and 16" x 16" platforms.
Can work with the Orbital Mixer and Rocker Platforms.
Operates from 0 - 175 RPM
Pitch from 0° to 40°
Continual full strength recharging lasting up to 3 to 4 years.
Ideal for environments -10°F - 120°F
Comes with 12v battery charger
Operates with up to a 10 lb. load.
On/Off switch, Variable speed control, Low Battery Indicator.
Specifications
Size: 10" x 9" x 6"
Weight: 10 lb.
12V DC Battery Charger included