I N O T E C H B I O S C I E N C E
THE INOTECH PROGRAMMABLE HESITATING ROCKER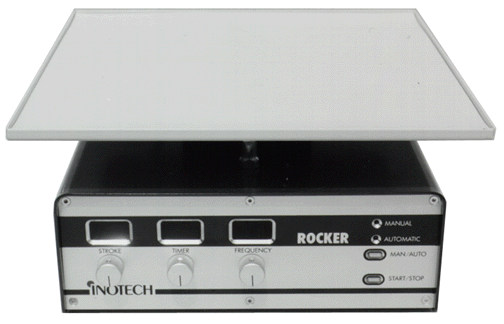 Inotech introduces the Programmable Hesitating Rocker for controlled, reproducible washing and mixing protocols.
Features:
The Inotech Programmable Hesitating Rocker provides precise control over the tilt, duration and frequency of the platform movements.
The Programmable Hesitating Rocker has 2-50 cycles per minute, 3¼-5¼ tilt and programmable pauses at any degree.
These features ensure unprecedented precision in optimizing platform movements for every assay: blotting, probing, washing, as well as protocols that require reproducible, mechanical processing of biological samples.
Innovative Aspects:
The Inotech Programmable Hesitating Rocker provides automatic horizontal return, safety clutch and digital LCD control panel. This innovative technology ensures convenience and safety on the bench or in the incubator.
The Inotech Programmable Hesitating Rocker has two modes of operation: Automatic and Manual...

Automatic mode ensures that the swing of the platform is uniform with the controlled frequency and stroke of rocking. The automatic mode enables the researcher to set a specific amount of time for the rocking of assays. Once the programmed time has elapsed, a chiming sound is given to alert the user.
Manual mode enables the platform to pause at the full stroke position for a pre-determined period of time. Also, the speed of platform movement is programmable.
| | |
| --- | --- |
| Maximum Load: | 5 Kilograms. |
| Stroke: | 3/8" to 1 1/2" stroke in 1/8" increments. |
| Timer: | 3.5 hours in Automatic Mode. In Manual Mode the timer controls the pause of motion at the full stroke position. |
| Frequency: | 2 to 50 full cycles/minute in Automatic Mode. In Manual Mode the frequency determines the speed at which the platform moves to each full stroke position. |