I N O T E C H B I O S C I E N C E
INOTECH HEAVY DUTY ROCKER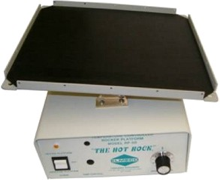 Heavy Duty Rocker (Model RP-50)
Inotech Catalog # IE-400
Not only the speed but also the pitch can be changed!
Features
The platform is interchangeable 12" x 12", 16" x 16", 20" x 20"
Can work with the Orbital Mixer,and Battery Rocker(16" or smaller) Platforms.
The noise free motor operates from 0 - 100 RPM
Pitch from 2° to 40°
The platform's working area is covered with a silicon rubber surface.
Platform can be used with Screw In Flask Holders.
Specifications
110V or 220V
Max Weight Limit 20 lbs.
Dimensions: 11" x 9" 4"